Nei Jia (Internal Shape) Kung Fu is a term that has become associated with the grouping of Internal Chinese Martial Arts known more generally as: Baguazhang (Eight Diagrams Palm), Xingyiquan (Form and Will Boxing), and Taijiquan (Supreme Ultimate Fist). All three of these arts are known for their health maintenance properties and their sophisticated approach to self-defense that is generally characterized by seeking softness, patience and flexibility over hardness, speed and brute force. This approach is different from Wai (External) Jia Martial Arts, which are characterized by maximizing speed and force. A well-known example of Wai Jia kung fu is Shaolin (and the multitude of styles and variations that it includes). In this context, a person can practice Taijiquan, for example, and refer to them self as a practitioner of Nei Jia Kung Fu. Each of these arts is a complete martial arts system.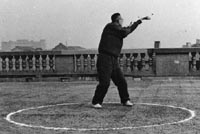 See the Applications page to survey a number of examples of martial applications from Baguazhang, Xingyiquan, and Taijiquan. We also have web pages that discuss various aspects of the Chinese internal martial arts on the www.chiflow.com web site. Related topics include Qi Gung (Chi Kung), a set of health exercises Lian Gong in 18 Forms (Liangong Shi Ba Fa) and a store site that carries a variety of resources we think are valuable.
The chiflow.com web site reflects my present practice focus on Jiang Rong Qiao's Nei Jia Quan (particularly Baguazhang and Xingyiquan) and Wu style Taijiquan. It is a personal choice. (For example, this is one of three styles of Xingyiquan I studied.) This emphasis is tied to the overall compatibility of these arts and experiences with particularly good teachers. The most influential teachers I had were Ma Yueh Liang and Wu Ying Hua, son-in-law and daughter of Wu Chian Chuan the founder of Wu style Taijiquan. I have found the underlying Taijiquan principals they taught can be directly applied to the internal (Nei Jia) kung fu system of Jiang Rong Qiao as taught by Zou Shuxian (Jiang Rong Qiao's adopted daughter) and Chen Jie Feng (who is outstanding in a number of ways including his encyclopedic knowledge of forms).