all content including images ©2015 (& since 1999) chiflow.com and Gerald A. Sharp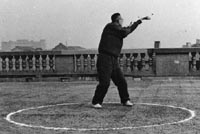 All Content (text and images) ©2006
by Gerald A. Sharp and chiflow.com
CHIFLOW.COM
P.O. 685
So. Pasadena, CA
91031
e-mail: chiflow@earthlink.net

Link Exchange

These are sites that have exchanged links with chiflow. The world wide web is a community as well as an information resource. To exchange links with us, send e-mail to chiflow@earthlink.com with the Subject Line: Proposed Link Exchange ... To let us know that some link is broken, send e-mail to chiflow@earthlink.com with the Subject Line: Nonlinking Link Exchange

Qi Gong (Chi Kung), Meditation, Massage and Health Exercises

www.liangong.com The authorized North American home page for Dr. Zhuang Yuan Ming's Liang Gong Shi Ba Fa (Liangong in 18 exercises). Nothing like Liangong for making the back, neck, and joints stronger and more flexible.
www.newyorkinternalarts.com - Always a New Class in NYC! Baguazhang (as well as other ongoing classes and sessions) Contact: Tom Bisio or Aaron Stiles
One of our most favorite translators (and Nei Jia Kung Fu practitioners) is Joseph Crandall. At this site you'll find information about the many books Joe has translated, and some information about his practice. You can contact him personally through this link.
Lyndon Apacible Internal Martial Arts and Liangong are the focus of Lyndon's teaching and work. He has an extensive background in chi kung, martial arts (including Filipino Traditional Arts), and Internal Kung Fu (T'ai Chi, Xingyi, and Bagua).
Michael P. Garofalo has a variety of superior online directories and his catalogue of poems (including his own) and writings are worth perusing. Of note are his Cloud Hands Directory and "Daoist Perspectives" page, which includes endless information on Tao (Dao) and several perspectives on the Tao Te Ching.
http://www.taichi-qigong.net - Description: If you are interested in developing your mental and physical harmony you will find our website most informative.
There are a group of sites associated with Tai Chi und Qigong magazine:

Baguazhang and Xingyiquan

Some of the best translations of Baguazhang and Xingyiquan books are by Joseph Crandall. Joe also did the first English translation of Sun Lutang's classic Taiji book, Taijiquan Xue (A Study of Taiji Boxing). Contact him personally through his website at this special link.
In 2006, Joanna Zorya and Julie Hinder founded the Martial Tai Chi Association in the UK. The aim of which is to promote the martial aspects of Tai Chi, and debunk &quotchi&quot, and avoid practicing Tai Chi in a non-martial manner filled with &quotesoteric gibberish.&quot Sadly, Miss Zorya passed in March of 2011. Her videos and articles are found online at: www.martialtaichi.co.uk. Especially admire their discussion on determination and studying at: Classes
www.newyorkinternalarts.com Contact: Tom Bisio. Tom has good Xingyi and Bagua. If you're in New York, or on the East Coast, he's one person you might want to check out.
Yin Cheng Gong Fa - (Northern Wu style group in North America) This group practices Xingyiquan and Baguazhang in addition to Taijiquan.

T'ai Chi Ch'uan

Other Martial Arts Sites or Schools

General Sites - Directories and Merchandise

Misc

http://www.interlockingfloormat.com Interlocking Floormat distributes Tatami style Interlocking Floor Mats, Puzzle form Mat, Music Puzzle Mat and Borderless Tatami Puzzle Rubber Mat. All these puzzle mats are widely use in home, Yoga, Martial Arts, Karate, Judo, Tai Kwan Do schools and Meditation centers.