Left: Zhuge Bagua Village
Right: "Pressing Neck Crank"
Zhuge Bagua Village is a historical Chinese village located near downtown Lanxi City, Jinhua, in Zhejiang province. The village was designed and constructed by Zhuge Dashi, the 27th descendant of Zhuge Liang who applied the theory of the Eight Diagrams to military formation, which was very effective in defeating rivals. The village center is the Bell Pond, divided into yin and yang. Eight lanes radiate outward from it, forming the inner Bagua and carving the village into eight blocks. The village is surrounded by eight hills, representing the outer Bagua. Much like the unified pre- and post-heaven symbols, the Lake Palm combines circular and linear energies. It can be as simple as a press down on the back of the head or neck of an opponent to ward off a tackle, or as complex as a Neck (or Spinal) Crank as demonstrated here. The internal arts of Taiji, Xingyi, and Bagua help promote balance, circulation, and flexibility. The Mother Palms are a simple practice that serve as a gateway to the classically circular martial art of Baguazhang.
Check out the following popular pages: Yi Quan, Liangong, and Applications of the Mother Palms
The T'ai Chi Power Combo! Our T'ai Chi Power Combo combines Two Complete Video Series in One: The Power Push Hands Video Series (Single Hands, Double Hands, Moving Push Hands, and Self-Defense Concepts) with The Wu T'ai Chi Power Training Video Series (Includes 3 Wu Style T'ai Chi Inner Door Sets, Hand and Spear Power Cultivation, Deriving Power from Form's Practice, and Integrating Power in Push Hands.)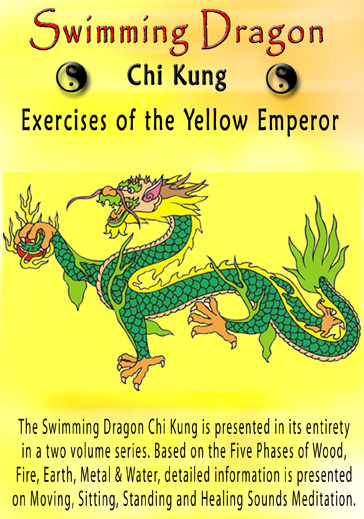 We have combined two of our best stand alone Chi Kung instructional videos to create the Chi Kung Duo (Ancient vs. Modern). The Swimming Dragon Chi Kung, is thought to have originated with the Yellow Emperor, and, with one look at its shapes and simplicity of movements (based on the Five Elemental Phases) it's easy to conclude that this may very likely be something special that has survived the ages-not to mention the fact that some people swear by the wonders it does for their spine and posture. The Soaring Crane Chi Kung was created by Zhao Jin Xiang in the 1970s, and is one of the most popular forms of Chi Kung the world over. With its specific focus on therapeutic points, patience, and stillness in movement, it rivals the chi cultivation sets of the ancients. The unique "sixth section" (or, Advanced Meditation) is a marvel amongst any and all Chi Kung practices. NEW to this series is the "seventh section" or Walking Methods. This completes this series and supports comprehensive instruction for students and viewers. While we don't advocate practicing two types of Chi Kung at the same time, these two popular and useful forms of Chi Kung practice, that we have combined in the "Chi Kung Duo" are certainly worth utilizing to compare, contrast, and ultimately cultivate.