Left: Chen Style's "Six Sealing and Four Closing"
Right: Wu Style's "Cloud Hands" (Fast Set)
These two applications present a clear contrast of the styles. Chen Style Taijiquan uses Chan Su Jing (Silk Cocoon Reeling Energy) to both intercept and redirect the opponent's aggression, while Wu Style's Fast Set uses Li Jing (Twisting Energy) to mimic a centrifuge, in order to neutralize the opponent's force and compromise their central equilibrium. Both styles engage the opponent's aggression with lightness and sensitivity, maintain contact, and exploit weaknesses in the opponent's situation.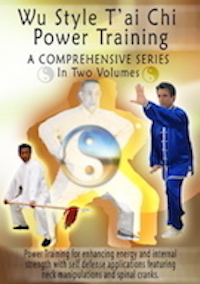 Explore Ma Yueh Liang and Wu Ying Hua, Chi Kung (Qigong), , and a Biography of Jiang Rong Qiao