Left: Zhuge Bagua Village
Right: "Pressing Neck Crank"
Zhuge Bagua Village is a historical Chinese village located near downtown Lanxi City, Jinhua, in Zhejiang province. The village was designed and constructed by Zhuge Dashi, the 27th descendant of Zhuge Liang who applied the theory of the Eight Diagrams to military formation, which was very effective in defeating rivals. The village center is the Bell Pond, divided into yin and yang. Eight lanes radiate outward from it, forming the inner Bagua and carving the village into eight blocks. The village is surrounded by eight hills, representing the outer Bagua. Much like the unified pre- and post-heaven symbols, the Lake Palm combines circular and linear energies. It can be as practical as a press down on the back of the head or neck of an opponent to ward off a tackle, or as elaborate as a Neck (or Spinal) Crank as demonstrated here. The Mother Palms are a simple, yet profound practice that serve as a gateway to the classically circular martial art of Baguazhang. The internal arts of Taiji, Xingyi, and Bagua help promote balance, circulation, and flexibility.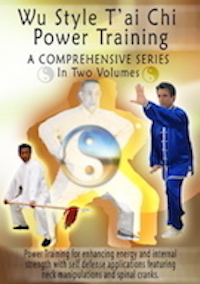 Explore Ma Yueh Liang and Wu Ying Hua, Chi Kung (Qigong), , and a Biography of Jiang Rong Qiao