Left: Xingyi's "Monkey Takes the Leash in its Mouth"
Right: Chinese Calligraphy (Chi Flow)
Applying the internal arts relies on flexibility and precision to neutralize and redirect an opponent's aggression. Surprisingly, Xingyi's obvious linear movements contain a barrage of angles and arcs. While its directness has been applied as forceful and brute, it is the flow, central in forming the characters, that is a constant variable in Taiji, Xingyi, and Bagua. These Nei Jia styles engage the opponent's aggression with lightness and sensitivity, maintain contact, and exploit weaknesses in the opponent's situation.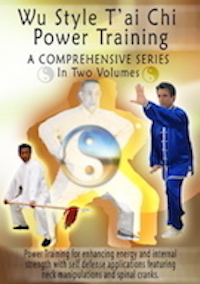 Explore Ma Yueh Liang and Wu Ying Hua, Chi Kung (Qigong), , and a Biography of Jiang Rong Qiao