Left: Xingyi's 12 Animals: Eagle/Bear Shape
Right: Baguazhang: Fire Palm
Spiraling takedowns can be an effective way to create space when you're tied up with an opponent. They can also be applied with less effort if you don't rely on grabbing clothing (or a gi) and utilize the opponent's joints as hinges and doors instead. These two applications present a clear contrast of the styles. Baguazhang is more circular, and, in the case of the Fire Palm, uses a horizontal spiral with an arc-like turn to lead the opponent off balance. Xingyiquan's Eagle/Bear combines a vertical spiral with a linear arm drag to capture and turn over the opponent's central equilibrium. Like T'ai Chi, both styles engage the opponent's aggression with lightness and sensitivity, maintain contact, and exploit weaknesses in the opponent's situation.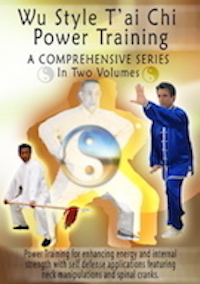 Explore Ma Yueh Liang and Wu Ying Hua, Chi Kung (Qigong), , and a Biography of Jiang Rong Qiao